The Beyond Off Grid Summit "Return to the Old Paths"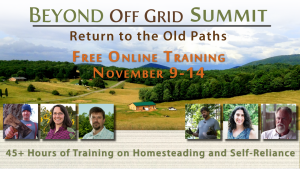 I want to share an excellent learning opportunity with all of you, which I think many of you will really appreciate. It's called the Beyond Off Grid Summit.
The Beyond Grid Summitis a Free training event focused on returning to the old paths of self-reliance and sustainable living, and will feature a full week of online training from a wide range of experts November 9th through 14th. Join experts and experienced homesteaders to learn the skills needed to survive and thrive with a lifestyle less dependent on modern systems.
Learn about topics and skills such as:
• Food Production
• Homestead Planning
• Raising Animals
• Natural Building
• Permaculture
• Alternative Energy
• Water Resource Management
• Food Preservation and Storage
• Natural and Herbal Remedies
• And Much More
The Beyond Off Grid project has gathered experts in a wide variety of fields to provide you with top-notch training. Instructors include:
• Rick Austin – homesteader, gardening expert, and author
• Cat Ellis from the Herbal Prepper – an herbalist and author of 2 books
• Laurie Neverman from Common Sense Homesteading
• Paul Munsen, president of Sun Oven International
• Wardee Harmon, author and teacher at Traditional Cooking School
• Cody Crone of Wranglerstar – homesteading educator on YouTube
The Beyond Off Grid Summit training is delivered in video format with informative presentation slides and images to help you understand the topic being taught and provide you with the insights needed you need to get to work developing the skills you need and implementing the concepts to change your lifestyle for the better.
Each day, five video training sessions will be made available for 24 hours, followed the next day by five different training sessions. The six day training event will give you access to 30 training sessions with over 45 hours of content!