How to Use Essential Oils to Relieve Sinus Congestion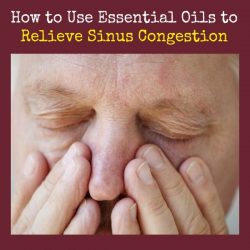 A sinus infection is miserable. Technically called sinusitis, this is a common ailment that first appears to be symptomatic of a common cold but in reality, is the result of swollen and inflamed nasal cavities. It is often caused by a virus which means treating with antibiotics is useless. That is just one reason why it makes sense to know how to treat the symptoms of a sinus infection without running to the drugstore for an armload of drugs that either will not work or will make you drowsy and incidentally raise your blood pressure.
Over the past couple of months, a number of people around me have suffered from sinus congestion. Like a mad scientist on a mission, I started experimenting with essential oils and with the help of Valerie Worwood's fantastic book on essential oils, came up with a formula that works. If you have sinus problems, here is a DIY remedy using budget-friendly essential oils along with three different ways to use the blend: topically, in a diffuser, and by simple inhalation.
The post How to Use Essential Oils to Relieve Sinus Congestion by Gaye Levy first appeared on Backdoor Survival.