Epidemic Levels: Tens of Thousands Infected as this Year's Flu Vaccine Totally Ineffective
The 2017-2018 flu season has shown to be particularly nasty this year — in part, they believe, because of a less effective vaccine. Each month, flu cases have multiplied and the CDC has already warned this year's flu will be worst than the last. To date, 23 states are showing widespread influenza levels and many believe this season could easily reach epidemic levels.
Delivered by The Daily Sheeple
We encourage you to share and republish our reports, analyses, breaking news and videos (Click for details).
---
Contributed by Tess Pennington of Ready Nutrition.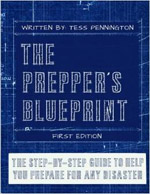 Tess Pennington is the author of The Prepper's Blueprint, a comprehensive guide that uses real-life scenarios to help you prepare for any disaster. Because a crisis rarely stops with a triggering event the aftermath can spiral, having the capacity to cripple our normal ways of life. The well-rounded, multi-layered approach outlined in the Blueprint helps you make sense of a wide array of preparedness concepts through easily digestible action items and supply lists.
Tess is also the author of the highly rated Prepper's Cookbook, which helps you to create a plan for stocking, organizing and maintaining a proper emergency food supply and includes over 300 recipes for nutritious, delicious, life-saving meals.